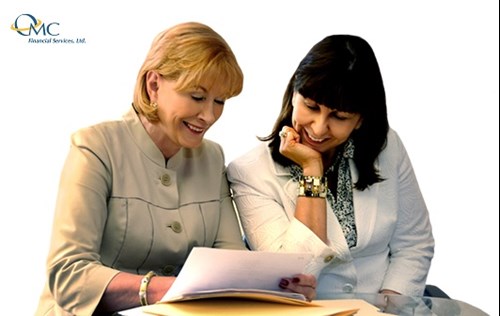 I can't believe that we are in the second week of January 2016 already. And, it has been a wild ride so far in the markets. It is too early to call a "trend" except, of course, for oil and the commodities. There will come a time when these areas will be exceptional buys, but we are not there yet.

A new year, a new look…


2015 was a busy year for OMC. In addition to the obvious challenges in the investment environment (more on that in a bit), we have made a number of updates to our business that we are very excited about.
First we have a new logo. We wanted a modern image that complemented our timeless tagline "Managing Your Money in a Changing World," and we think Gail Cowley of Cowley Associates hit it out of the park. With the help of ACS Inc., we have also completely redone our website to give it a fresher look and improved functionality, and we have taken steps to maximize our presence on the web. As geographic distance becomes less relevant, we want to ensure our services are available to our clients and those searching for the right investment firm, no matter where they are.
Now for the markets…


Stocks, bonds, cash, and commodities.


Basically, cash was flat while the 30-year Treasury, the S&P 500, and the CRB Commodities Index were all negative for the year. The DOW also declined making last year the first year since 2008 where both the DOW and S&P 500 were lower in the same year. Of the ten sector components of the S&P 500, six were down for the year with two sectors, energy and materials, falling double digits. Many widely-held stocks, even the darling of Wall Street, such as Apple, were lower as well. Oil and natural gas hit multi-year lows and gold turned in a negative year for the third year in a row. Volatility increased across the globe as attentions focused on a U.S. rate hike (they finally did it!), the continuing slowdown in China, increased geo-political tension, and terrorist attacks.

2015 did not turn out as many of us would have preferred, but it could have been much worse. After falling about 11% in four days last August, the S&P 500 started the fourth quarter by gaining almost 10% which allowed most people to finish the year better off than they were at the end of the third quarter. With the focus on interest and dividends, it helped our clients withstand fluctuating stock prices.
No one knows what the future holds, especially in the near-term, and most of the time the financial media does not help. (Is a 1% market decline a "plunge" or a 3% move lower a "plummet"?) Right now, we have low but rising interest rates, a strong dollar, falling commodity prices, geo-political uncertainties, a slowing Chinese economy, and an upcoming presidential election. Despite all of that, the bottom line is that we have to work with each of our clients to address their financial needs and goals no matter what is happening in the world. To us, that means taking a long-term approach, focusing on what we can control, remaining diversified, and being prepared.


2015 is now behind us and we are looking forward to 2016 and assisting you with your investment needs. Let's talk.