Cynthia A. Scott, ChFC, President
Cynthia A. Scott, ChFC is the founder and president of OMC Financial Services, Ltd.
As an investment manager, Cynthia personally manages her clients' investments and is involved in every facet of the investment process including idea generation, screening, research, asset selection, and asset allocation. She re-assesses each individual investment as well as the overall investment mix on a regular basis and takes appropriate actions when an investment no longer meets OMC's criteria.

As president, Cynthia is actively involved in every aspect of the daily operations of the firm. She is also the Chief Compliance Officer (CCO) of OMC.

Cynthia was a weekly financial guest on WSTM-TV3's noon news with Laura Hand. In addition, she was a weekly columnist for the Post Standard's "Personal Business Asks…" segment of the "Moneywise" section for seven years. Previously she was a frequent guest, as well as a guest host, on WCNY's "Financial Fitness" program.

In April 2014, Cynthia was chosen as the featured woman in Syracuse Woman Magazine. This honor highlights women's accomplishments either professionally or personally. Syracuse Woman Magazine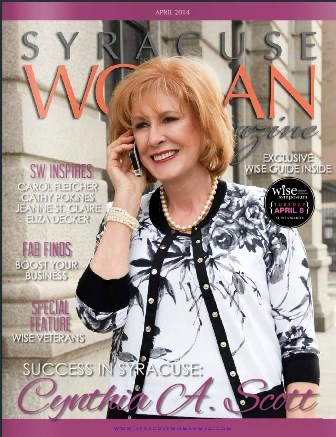 In 2012 she was invited for membership into The Women Presidents' Organization, which recognizes women who excel in their businesses. The WPO is a non-profit membership organization for successful female business owners of million-dollar plus companies. Her community involvement includes serving as a current board member of The Museum of Science and Technology (MOST), and a previous member of the Government Relations Committee of the Syracuse Chamber of Commerce (CenterState CEO), Syracuse Tomorrow, and 20/20 Modernization Committee.

In 2007, Cynthia was recognized at the annual Women in Business awards luncheon. She was nominated for her exemplary achievements in business, civic leadership, and personal development, and was one of only 20 highly successful women in Syracuse to be honored. In November 2003, she received the "25 Women in Leadership" award for professional success and active participation within the community. Cynthia is a graduate of Penn State University.